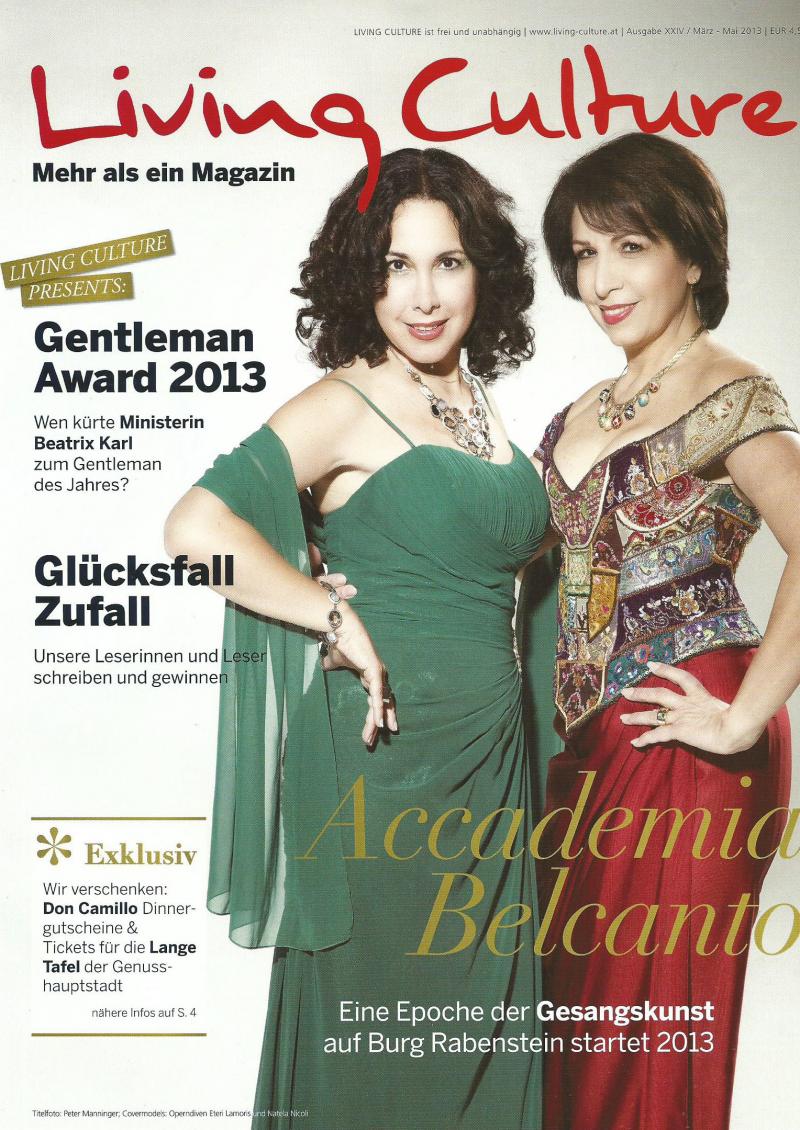 ETERI LAMORIS TEACHES VOCAL PART TIME. SHE GIVES MASTER CLASSES IN DIFFERENT COUNTRIES (AUSTRIA, PORTUGAL, SPAIN, FRANCE, CHINA, HONG KONG, UKRAINE).SHE IS PERMANENT TEACHER, MEMBER OF JURY AND DIRECTOR OF THE FESTIVAL AND INTERNATIONAL COMPETITION  "ACCADEMIA BELCANTO" IN GRAZ (AUSTRIA) WHERE SHE SINGS IN CHARITY CONCERTS WITH ILDIKO RAIMONDI, ANGELIKA KIRCHSH-LAGER AND COLLABORATES WITH CHRISTA LUDWIG AND JAIME ARAGALL AT THE MASTER CLASSES.
In collaboration with Christa Ludwig, Natela Nicoli, Jaime Aragall, lldiko Raimondi, Stefanie Kopinits, Angelika Kirchshlager and other well known musicians.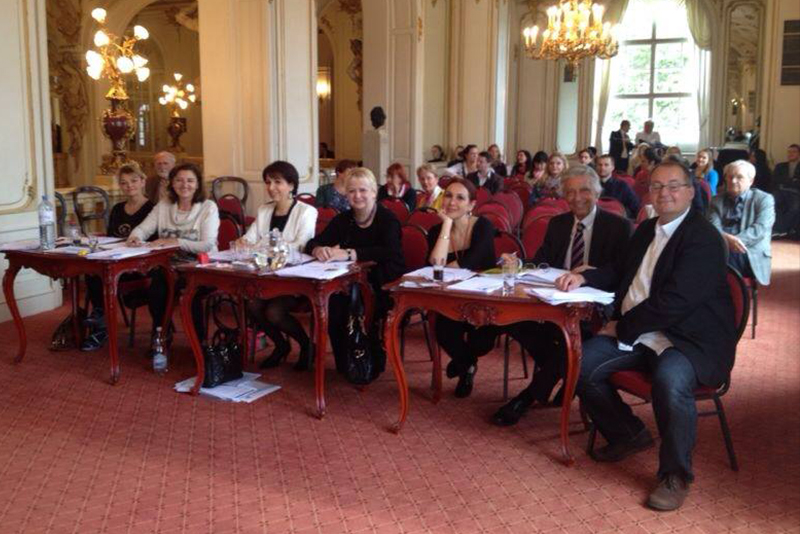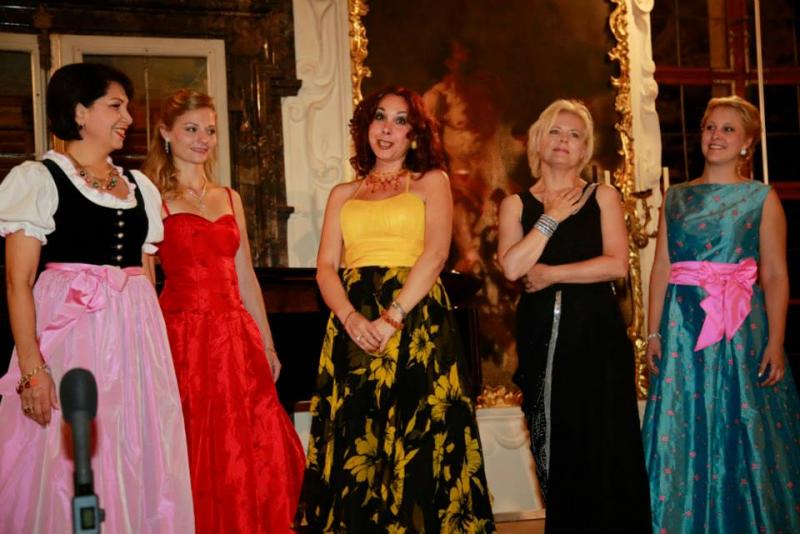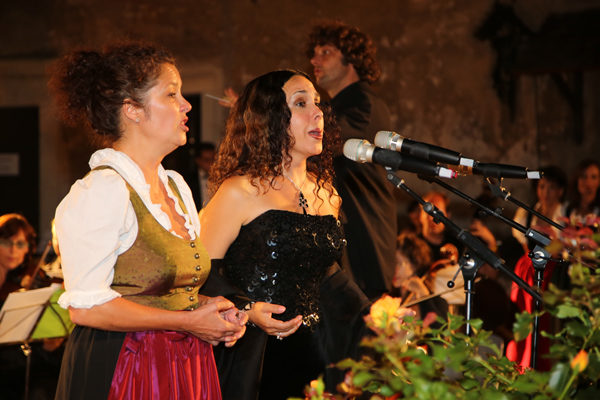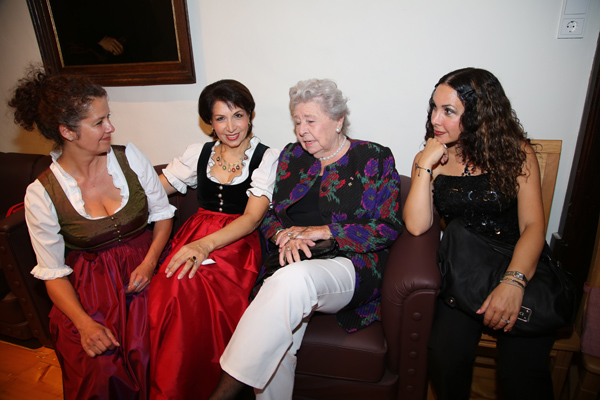 INTERNATIONAL VOCAL ACADEMY
The main idea of the Summer Academy is to support young and talented singers from Austrian and the rest of the world who are still studying or have already successfully finished their studies. 
Internationally renowned opera singers and vocal coaches will provide vocal training, input on stage presence, appearance, gesture, recitativo techniques etc. – everything the young talents need to perform professionally in the opera business. The training should pave the way for them to perform on the great international opera stages. 
And the Academy is different from similar offers in Austria, as the teachers are international opera stars who not only pass on their knowledge to the participants but also perform with them on stage. This is intended to motivate the young artists to further develop their talent and to reach an international level. This collaboration focuses on aspects of stage performance. Public final events and concerts are planned at which the participants of the Summer Academy can showcase what they have learned and how much progress they have made. 
Participants have the opportunity to choose from the varied course programme and pick an optional number of training sessions in order to improve their individual skills. 
Both late starters and professional singers are entitled to take part in the courses. Participants will be allocated to classes following an audition in which singing skills will be judged by an expert jury from the Academy. 
The aim of «Accademia belcanto» association is to become one of the most prestigioussummer training centers in Austria.
Thanks to our president Natela Nicoli, her staff and her friendly relations with renowned singers in Austria and abroad, «ACCADEMIA BELCANTO» is expected to reach an international level.  
* Coaching week: First time in the classical music and exclusively in our academy! Invited stars and well known teachers participate in our international competition as members of jury, as well as provide lessons of coaching to our participants, helping them to improve their skill and to be maximally ready for semi-final and final of contest, and to compete for laureateship. This approach gives our participants possibility to accustom to the friendly atmosphere in order not to worry during the competition and show the best result. In such conditions the singer usually shows great flexibility and can quickly correct mistakes. Also the singer improves the competitive program very fast. This flexibility usually play a big role in the singer's future career. That's why we pay big attention for this quality of the singer togather with the voice and artistic skills. All lessons are individual and every participant will have individual schedule of the lessons. We speak English, German, Italian, Spanish, Russian and other languages – so every singer will feel comfortable. 
The Belcanto Summer Academy and the Accademia Belcanto International Vocal Competition stand for the highest artistic quality. Thanks to a rich musical tradition in Styria and Austria, musicians can discover creative ways of developing in these inspiring surroundings. Accademia Belcanto also sees itself as a place of encounter and a permanent component of public life within the region. Visitors from all cultural backgrounds and generations should have the chance to experience music as something enriching and as a link between people.
Our aim is to support young talents, to revive the concept of BELCANTO in Austria and therefore maintain and further develop the musical tradition of our country. We would like to provide young people from Austria and all over the world with the opportunity to further develop their skills in order to compete on international stages. In doing so, we aim to live up to our country's traditional reputation as the «Land of Music».