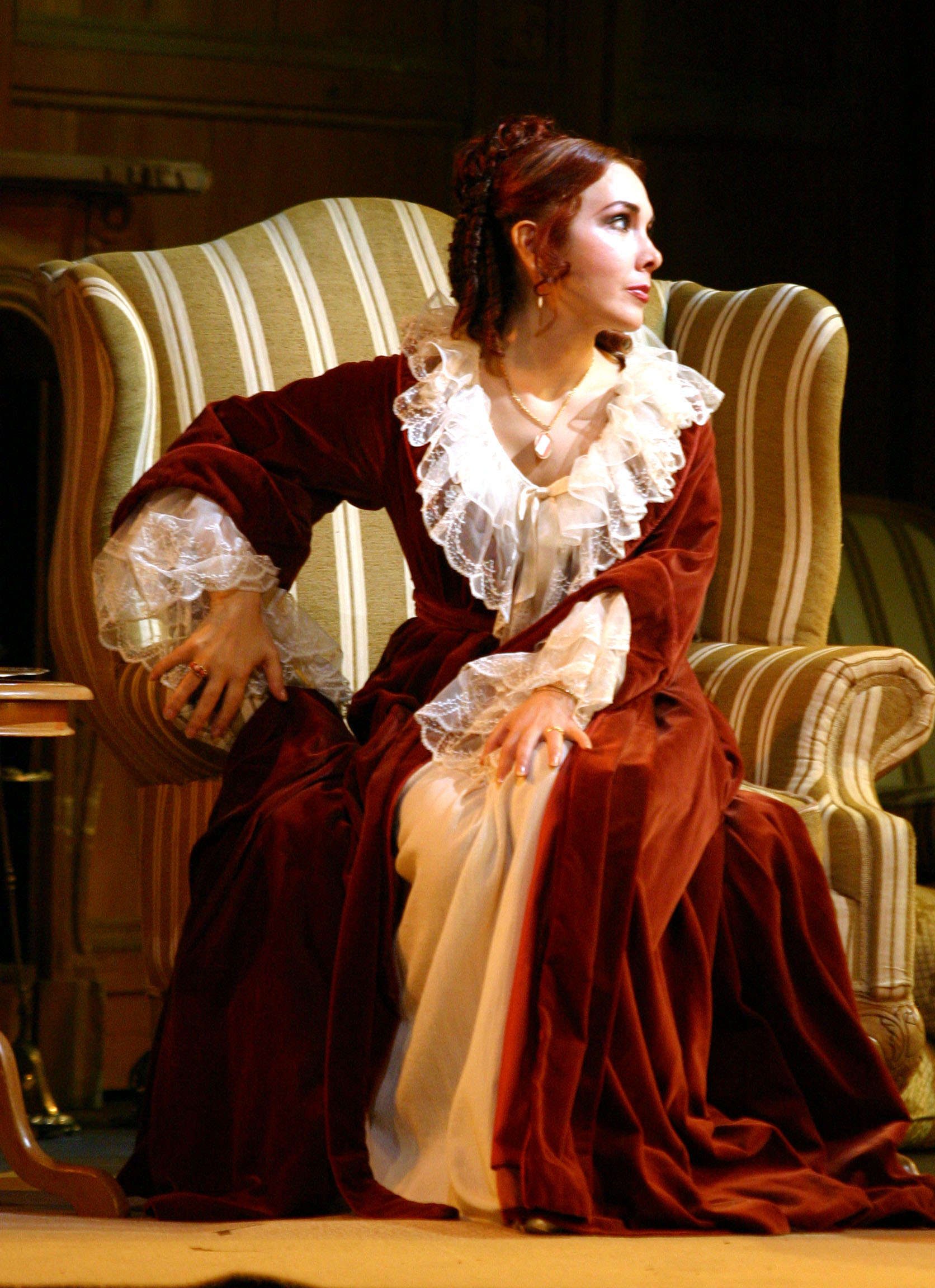 Eteri Lamoris
The Spanish critics regard her as
"Violetta of the XXI century" 
and 
"Genuine pearl of the opera world".
Her Royal Highness Princess of Sweden Christina Magnusson presented Eteri Lamoris with the International Royal Gold-Order Award "Greatest Singer of our Time" The event took place at the Royal Palace of Stockholm
Eteri Lamoris is a Spanish opera singer, Georgian descent comes from family with a great musical background. Since her early years Eteri studied singing with her mother, opera singer Lamara Chkonia. Then at the Higher School of Singing in Madrid, also attending singing lessons of Renata Scotto and Ruthilda Boesch in Vienna.
Eteri Lamoris is laureate in seven International competitions, in five of which she was awarded the first prize.
After her international breakthrough in the role of Musetta in Franco Zeffirelli's LA SCALA production of La Boheme, she performed at the following operas and theaters: TEATRO DI SAN CARLO DI NAPOLI: La Boheme (Musetta) with Ramon Vargas; in the same role with Luciano Pavarotti  at the TEATRO REGIO DI TORINO; OPER DER STADT BONN: Romeo et Juliette (title role) produced by Giancarlo Del Monaco; WASHINGTON OPERA: Romeo et Juliette (title role), I Puritani (Elvira) and in the  production of TEATRO ALLA SCALA DI MILANO: I Pagliacci with Placido Domingo, directed by Franco Zeffirelli.
Eteri Lamoris further performed at the STADTTHEATER BERN, OPER GRAZ, DEUTSCHE OPER AM RHEIN DUSSELDORF: Lucia di Lammermoor directed by Chistof Loy, TEATRO ARRIAGA BILBAO: La Traviata, Carmen, Orfeo ed Euridice, L'Elesir D'Amore with Marco Armiliato, Manca di Nissa, Denis Graves and Luis Lima, TEATRO LA FENICE DI VENEZIA: Un Ballo in Maschera with  Georgio Zancanaro; HAYDN FESTIVAL IN EISENSTADT; NIEDERSACHSISCHE STAATSOPER HANNOVER: L'Incontro Improvviso (Rezia) conducted by Adam Fisher; TEATRO REAL DE MADRID conducted by  Silvio Varviso, PALM BEACH OPERA: Rigolrtto (Gilda), NATIONALTHEATER MANNHEIM: La Traviata and the same opera at the TEATRO "COLON" DE BUENOS AIRES, TEATRO NACIONAL DE RIO DE JANEIRO produced by Sonia Frisell and Giani Quaranta; TEATRO COMUNALE GIUSEPPE VERDI DI TRIESTE: La Boheme and Les Contes d'Hoffmann (Antonia) conducted by Daniel Oren, OPERA DE NICE and OPERA DE NANTES: Le Coq d'Or.
From 2005 she performed in NAPLES and ROME OPERA THEATRES of «La Boheme" and "I Capuleti e I Montecchi" with Nello Santi, "Turandot" in RAVENNA with  London Symphony Orchestra, In 2006-2007 she had a tour of "La Traviata" of Franco Zeffirelli's production in Italy, and tour of "Lucia di Lammermoor" in France, "La Boheme" in LOS ANGELES OPERA with Roberto Alagna, «Romeo et Juliette» and "La Traviata" of LOS ANGELES OPERA production in Macau, Hong Kong and China. Then again she was invited for»La Traviata» at the ARENA DI VERONA and many opera houses around the world.
As a recitalist Eteri Lamoris' engagements have included concerts at the VERDI OPERA FESTIVAL in BUSETTO; ROYAL PALACE MUSIC FESTIVAL, STOCKHOLM; BLUE DUNAY FESTIVAL, VIENNA; FESTIVAL OF «THE GREAT RUSSIAN MUSICIANS» in TOURS, where she sang numerous concerts with the «MOSCOW SOLOISTS ORCHESTRA» conducted by Yuri Bashmet, «MOSCOW VIRTUOSOS ORCHESTRA" with Vladimir Spivakov, and a recital concert under Mstislav Rastropovich's  patronage, as well as numerous recital concerts in the AUDITORIO NACIONAL, MADRID; TEATRO DE CAMPOAMOR, OVIEDO; TEATRO REGIO DI PARMA with the «PRAGA VIRTUOSOS ORCHESTRA", STEFANY HALL, GRAZ; RUDOLFINUM HALL, PRAGUE; VIENNA «KONZERTHAUS», concerts in the BOLSHOI THEATRE, MOSCOW; TEATRO DE LICEU, BARCELONA; THEATRE DE CHAMPS-ELYSEES PARIS conducted by Charles Dutoit and Kurt Masur; ROTTERDAM THEATRE; WIENER STAATSOPER; ATLANTIC HALL, OPORTO; COLUMN HALL, MOSCOW; PITTSBURG THEATRE, USA; TEATRO REAL, MADRID. She also sang at the OLDENBURG FESTIVAL, BREGENZ FESTIVAL, MENTON FESTIVAL, which included a CONCERT TOUR IN FRANCE, ISRAEL, GREECE and TURKEY with Daniel Barenboim, Salvatore Accardo, Barbara Hendricks, Yuri Bashmet and other well-known musicians. Several concerts in CARNEGIE HALL with New England Symphony orchestra, as well as concerts with VIENNA SYMPHONY ORCHESTRA directed by Fabio Luisi.
In 2007 – 2008, she sang in outstanding event, at the tradicional concert  «CHRISTMAS IN VIENNA" in VIENNA GOLDEN HALL with Elina Garanca and VIENNA RADIO'SYMPHONY ORCHESTRA, as well as in many concerts around the world.
Eteri Lamoris was recognized by the press as the «Violetta of 21st century» for her performances in Verdi's "La Traviata" and one of the  best performers of Donizetti's Lucia di Lammermoor's title role
The Spanish critics regard her as a «Genuine pearl of the opera world"
Due to a birth of her son, Eteri Lamoris returned to concert activity in 2010. She reduced her participation in opera performances taking on a new role of concert singer and producer for the international events and gala concerts. Of her latest projects, worthy of mention are the gala concerts «La Scala Stars», «Pearls of Opera World», «Spanish Nights», «Winter Opera Tale», «Lamara Chkonia-80», "Christmas in Georgia".
On March 10th, 2012 Princess of Sweden Christina Magnusson presented Eteri Lamoris with the ROYAL AWARD, SWEDISH CULTURE GOLDEN ORDER "GREATEST SINGER OF OUR TIME". The event took place at the ROYAL PALACE OF STOCKHOLM.
Eteri Lamoris also teaches vocal part time. After her concert performances she gives master classes (In Austria, Portugal, Spain, France, China, Hong Kong, Ukraine). Since 2012 she is permanent teacher, member of jury and director of the International Festival and vocal Competition "Accademia Belcanto" in Graz (Austria) where she also sings in charity concerts with Ildiko Raimondi, Angelika Kirchshlager, Natela Nicoli  and collaborates with Christa Ludwig, Jaime Aragall and Teresa Berganza at the master classes.
Eteri Lamoris has an extensive discography of opera arias, chamber and contemporary classical music. Her records sold in many European countries and USA.
"Juliette of Lamoris is a beam of light. The music is pouring from her soul. Her beautiful and precise upper notes. Warm timbre and ingenious interpretation of the character should be noted".
OPERA INTERNATIONAL – PARIS
"A significant event in opera world was the performance of «Lucia di Lammermoor by Eteri Lamoris. She knows how to conquer opera-goers with her immaculate technique, and perfect example of belcanto".
 L'OPERA –  MILAN